Each Friday for ten weeks I am reviewing a chapter of David Bach's Smart Couples Finish Rich. The introduction can be found here, the review of step 1 here, step 2 here, step 3 here, step 4 here, step 5 here, and step 6 here.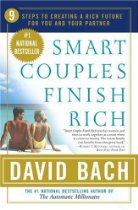 It's time to dream again! Or so says Bach in the beginning of Step 7: Build Your Dream Basket. Kids are full of dreams and desires for the future, and somewhere on the way to adulthood we lose that, and Bach says, no more. I must admit when I looked at the title to this chapter I thought "I am having enough trouble figuring the other two baskets out, there is no way there is anything left for the dream one… ever." Especially with the recent change in my situation. But, read on, for Bach gives me a glimmer of hope. It is all about the mindset, not about the specifics.
Bach starts the chapter telling us to figure out our dreams – individually and then with our partner – because without a dream for the future, life doesn't seem compelling enough to save for. Each of us should individually come up with our top five dreams, share them with our partner, and then start saving for them, and in doing this we answer the question "Why invest?". For our dreams, of course!
Bach outlines a systematic investment plan – basically, if we don't save automatically through an automatic deposit every week or month, we won't do it. How much of your income you save is up to you but Bach suggests 3% of your take home pay as a starting point. 3% is small enough, he claims, that most people won't be able to argue they can't afford it. You could also start it at 1% and increase it by 1% every six months, and that way, you'd barely notice it. The rest of the chapter is devoted to options for investing your dream money. For a short-term horizon of less than 2 years Bach recommends a money market account, and for the long term he talks about an array of options from stocks to mutual funds.
So… easy, right? I found the process of creating a dream list much easier than I thought. There is a chart where you can do a timeline, costs, etc and relate it to your value circle but I'll just list the actual dreams I had here:
Save $20,000 for each of my children's college costs
Go on an Alaskan cruise with my spouse
Spend an entire weekend with just me and the spouse, no kids
Open a taekwondo studio
Become world champion in weapons in my taekwondo style
New floors in my downstairs hallway and bathroom
I don't talk a lot about taekwondo here because doing so would compromise my anonymity (I am world-ranked in weapons and have been in the past in both forms and weapons for my age group) but competing at that level has a significant cost, and I have basically put those dreams on hold while we sort out our financial mess. But somehow even with the limited competing I have been doing (at local tournaments where I am required to attend because I am on staff and have an actual job to do there beyond competition) I have found myself in the top ten world rankings in my age group. If that continues, come time for the worlds competition (not until June) my spouse and I are going to have some serious discussions about if I should chase that dream again and spend the money for me to travel to the world competitions and try to become world champion. But for now I'm not actively pursuing that dream.
The weekend alone might seem simple but without any family close by, it becomes a lot more costly. I love my kids to pieces but sometimes I would just like a little more sleep and a little less "Mommy, mommy, mommy, mooooooooommy…..".

But enough about my specific dreams. I haven't had my spouse do this yet, but I will. I found it a good exercise. I expected listing my dreams make me feel discouraged because I feel like they are out of reach, but instead I felt a bit energized and ready to think about the possibility of one or more of them becoming reality. Even though I haven't yet completely sorted my retirement basket and security basket (small steps towards each but neither is to the level it needs to be) I do have a small savings plan for the dream basket. It is only $25/month, which is about 1% of my spouse's take home pay, so small. But, all of my baskets are small right now. I guess I could be concentrating on a specific basket more but since most of my focus is debt elimination, I find the many small basket approach more comforting to me than the one bigger basket approach.
The one "complaint" I have about the book is that it does seem to me to be written more for the people who actually could accomplish all these goals (the baskets etc) rather easily, but just lack the know-how or understanding to do so without the guidance provided. There is a real segment of the population, me included, who really *don't* have the means to make all these savings plans a reality right off the bat, and each chapter basically assumes you have completed the chapter before it and pats you on the back for doing such a good job. Unless I took 5 years or more to read this book, I won't complete one step before reading about the next one. This is more than willpower for me, it is an actual lack of available funds, no matter how much I cut our expenses. And so it goes. I am still spending less than I earn though!
Next week, Step 8 explores how to avoid the ten biggest financial mistakes couples make. I am hoping we are already not making most of them… stay tuned to find out and see if you are making any of them as well!
You can also: Stumble It!
Bookmark
Submit to Reddit
Submit to Tip'd