Each Friday for ten weeks I am reviewing a chapter of David Bach's Smart Couples Finish Rich. The introduction can be found here, the review of step 1 here and step 2 here.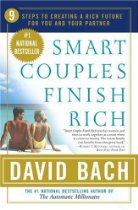 Ready to Plan Together… Win Together? That's Step 3 of Smart Couples Finish Rich. And let me tell you…. it's a doozy. Here we start taking action, and I'm somewhat ashamed to admit… I haven't finished the action steps yet. There are two main ones in this chapter and I've done one but only half-started the other. And I haven't gotten my spouse to do his part. I even considered putting off this review until next week in hopes I'd get around to finishing but… the show must go on. I'm human too.

Looking at this chapter, I expected it to ask us to look at our future and plan out where we want to go. I expected a lot of focus on the planning together vs the nitty gritty of the actual plans. Boy was I in for a surprise…
The bulk of Step 3: Plan Together… Win Together revolves around two main action items: creating a file system for all of your financial information and developing your purpose-focused financial plan. The first is simply a file system organized in a specific way that houses all your important financial paperwork and information, that is designed so that when you get new statements, they can just be dropped into a specific folder. The second is a financial plan that takes into account your value circle from Step 2 and creates 5 actionable goals based on those values (one for each) that you develop specific steps in order to accomplish for a twelve month (or shorter) timeline. The chapter ends with the Clarity Question:
Twelve months from now, what five specific things would you need to have accomplished in order to feel you have made great financial progress in your life?
Honestly, on my first read, this chapter completely overwhelmed me. So much to do, so much encouragement to start doing something in the next 48 hours… and I am just so lazy. I am not saying both these things are not good ideas, it is just hard to get over my natural inertia. Reading I can do, taking action… well, less so. But I reread the chapter, and it didn't seem *so* hard. Actually, not really hard at all, just time consuming.
I started the first project of organizing my financial records, and I had the file box and the hanging folders, but I do not have any file folders to go inside them. I set up the 12 hanging folders and labeled them, and stuck whatever would go inside each in them (I actually have most of my records easily accessible, if not actually very organized), but the inside of each of the twelve folders is not organized by account into separate file folders like it is supposed to be in the system. I kept meaning to go buy a box of file folders…. well, it is now Friday so it is too late for this week. But maybe by next week I'll get that part done. I'll keep you posted.
The second project, creating the purpose-focused financial plan – this I did do. But I didn't manage to ask my spouse to do it… I have a confession to make. I'm the one reading the book. My spouse just does exercises I tell him to, and we have conversations about things I've read, but he has no interest in reading the book himself. The book is my "thing". Okay, back to my purpose-focused financial plan. I found this, frankly, very difficult. What financial goal did my value of "growth/creativity" relate to that I want to accomplish in the next 12 months? How about marriage and family? Honestly I wish that there were some concrete examples in the book to give me some ideas.
I have no idea how to paste a chart here, and also I did this on paper not the computer, so I'm not going to spell out my entire worksheet. But I will say the value and what goal I related to it:
family/marriage: double my daughter's college savings account and increase my son's by 50% in the next 12 months
security: increase spouse's 401K contributions from 4% to 6% (the max for matching funds) by 12 months from now
growth/fulfillment: reduce possessions by 60 over the next 12 months through sales or donations (5 per month)
creativity: create specific scheduled time for blogging throughout my week and increase the blog's revenue in the next 12 months (had to tie it to money somehow, but since the revenue so far is negative, that should be simple… lol)
freedom/independence: eliminate credit card debt in the next 12 months.
So, there you have it. Five financial goals tied to my previously stated values. I'm still not too happy with the growth/fulfillment one, although becoming happier with less does feel fulfilling. The freedom/independence one is basically my top priority goal, as illustrated by the blog's whole premise.

Overall, I found this step largely frustrating. I was frustrated with myself for not finishing the file system and also for not talking to my spouse about creating the financial plan, and also with the whole process of creating my own financial plan. I honestly don't think what I created represents my top 5 financial goals for the next 12 months (although I'm also not sure what I would add instead). Some of them definitely do, but some of them I was totally reaching. If I do accomplish at least the most important of those goals though, I will feel like I've made great progress in my financial life as stated in the clarity question. I did like the clarity question. So, there's that.
Next week we look at Step 4: The Couples' Latte Factor. Hopefully by then I've completed Step 3 and asked my spouse to do the same. See you then!
You can also: Stumble It!
Bookmark
Submit to Reddit
Submit to Tip'd