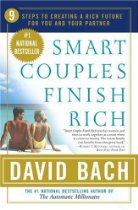 For the past ten weeks (with a small hiatus for the Thanksgiving holiday) I have been reviewing David Bach's steps to becoming rich in Smart Couples Finish Rich. There were some steps I found easy, some I found not quite as easy, and some I found hard to even consider (increasing income by asking for a 10% raise? Maybe someday…). But overall, I am pleased with the book and thought is was a worthwhile read for a few key reasons.
First, Bach encourages communication. My spouse and I have a very good relationship on the communication front, but more communication can't hurt and the book gave us ideas on things to talk about that we hadn't really considered before. I learned a lot about how my spouse's values and ideas regarding money had been formed as well as his feelings on other deep personal issues that may not have come up for us in the course of our daily lives. Honestly, I'm still as crazy in love with my spouse as I have been our whole relationship and I can't imagine spending my life with anyone else, so the more we talk and know about each other's deepest feelings, values, and desires, the better.
Second, Bach encourages organization – another thing I am a huge fan of. Many of the chapters involved organizing finances and creating systems that are simple and simply work. I found a lot of great ideas reading these.
And finally, how Bach writes, for me, was very motivating. He really made me want to get up and do things. All of the steps seemed approachable and doable (except maybe the asking for a raise one) and I felt really empowered reading many of the chapters.
The one big thing that I wasn't so fond of throughout the book was how each new chapter had an underlying assumption that you'd finished the step in the chapter before. For someone who is living paycheck to paycheck, under a bit of debt, and not saving enough for retirement, changing everything all at once will take time. I guess one way to read the book would be to not read another chapter until the step before was done, but the book might take multiple years to read that way. I do, however, look forward to rereading this book in a few years in its entirety and seeing how far I've come.
The big question I think is – did Bach make me believe I am part of a smart couple who can finish rich? I think he did. Or at least, he made it feel in the realm of possibility to someday be rich – something I honestly never have considered. My goal was to "get by" and I think now, my goal is to "get by well". So for that alone, I think the book was worth the read.
If you have read Smart Couples Finish Rich (or even if you've just read my take on it) weigh in in the comments and let me know what you thought!
Want to read more in detail reviews of each step to finishing rich? My chapter by chapter reviews of David Bach's Smart Couples Finish Rich are as follows: the introduction can be found here, the review of step 1 here, step 2 here, step 3 here, step 4 here, step 5 here, step 6 here, step 7 here, step 8 here, and step 9 here.
You can also: Stumble It!
Bookmark
Submit to Reddit
Submit to Tip'd